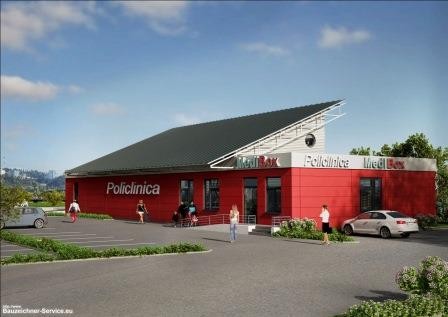 As the ideas generator, designer and developer for MediBox we don't just organise the creation of clinics, including exterior facilities, but also supply and install medical devices, all fixtures and fittings for the interior, and organise staff training in how to use the devices. In addition, we provide you with on-site trained specialist firms which hold responsibility for maintaining and repairing the medical devices and the property itself. If desired, we can handle the maintenance of computer software via the connected computer centre. If necessary, we can also deal with infrastructure-related tasks, such as the installation of a deep well or the creation of a small water treatment plant, as well as a centralised processing plant for hospital waste, in the event that the infrastructure at the location in question is lacking or insufficient to support the running of a hospital or specialist clinic.
From creation through to the ready-to-use construction of the MediBox, our construction managers are with you every step of the way to ensure that the work carried out by our licensed modular construction companies is in line with our high quality standards. This makes K.I.A. Holdings an attractive and fully-reliable partner for owners of hospitals and specialist clinics, as well as for municipalities.
The MediBox is also perfect for clinic chains looking to expand into particular regions and countries quickly and efficiently and to position themselves in these regions with their range of medical clinics. Upon request, we can ensure that your expansion objectives are met. From the purchase of land, to location analysis and the granting of construction rights, through to the ready-to-use handover of the complete clinic.